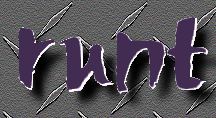 runt: Pioneers of the "Pyroplastic Flow"



The "Back" mp3 is now up!! Visit the "Sounds" page for the FREE download!



runt is:
Ruckus: Guitars and Mouth
Carcass: Guitars and Mouth
Currently looking for Bass and Drums to replace backstabbing pricks....

Inquire at: guitar@buffalo.com







Our Yahoo e-group! Click Here!

Sign the damn guestbook!

View My Guestbook
Sign My Guestbook




Website design and maintenance by official runt webgeek Justin Kubiak